XVI International Baldin Seminar on High Energy Physics Problems
("Relativistic Nuclear Physics and Quantum Chromodynamics")
(Dubna, 10-15 June, 2002)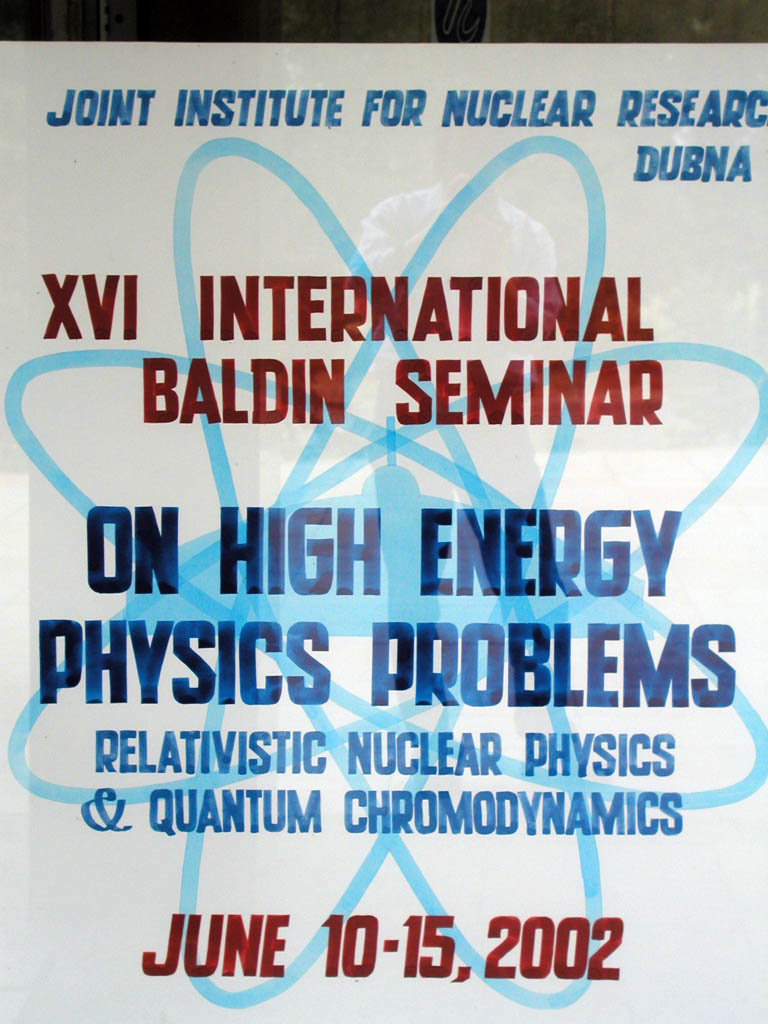 Первый день. (10/06/02)

Экскурсия на параходе. (13/06/02)

Продолжение конференции. (14/06/02)

Кофе-брейк, Фуршет. (10/06/02)

Общие фотографии. (10/06/02)
XVI INTERNATIONAL BALDIN SEMINAR
ON HIGH ENERGY PHYSICS PROBLEMS
RELATIVISTIC NUCLEAR
PHYSICS AND
QUANTUM CHROMODYNAMICS
 
Dubna, 10-15 June, 2002
 
 
FIRST BULLETIN
 
 The XVI International Baldin Seminar on High Energy Physics
 Problems ("Relativistic Nuclear Physics and Quantum Chromodynamics"),
 organized by the Joint Institute for Nuclear Research and
 the Russian Academy of Sciences, will be held from 10 to 15
 June 2002 in Dubna, Russia.
 
 This time the Seminar is organized in memory of
 Academician A.M. Baldin (1926-2001)
 an outstanding scientist who has established the Seminar.
 
 

 Seminar Topics:
 - Quantum chromodynamics at large distances;
 - Progress in experimental studies at the high energy accelerators -- Nuclotron, RHIC, CEBAF, COSY, etc.
 - Relativistic heavy ion collisions;
 - Hadron spectroscopy;
 - Structure functions of hadrons and nuclei;
 - Multiparticle dynamics;
 - Polarization phenomena and spin physics;
 - CP violation;
 - Studies of exotic nuclei in relativistic beams;
 - Applied use of relativistic beams;
 - Accelerator facilities: status and perspectives;
 The program is supposed to present reports from the major
 experimental collaborations and summaries of the major
 theoretical and experimental advances
 made in relativistic and nuclear physics.